Gorse Hill Studios - Digital Arts Suite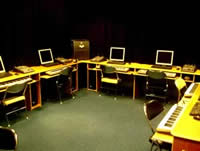 The Digital Arts Suite
Posted on 3rd April 2008
A music and video technology and digital arts production classroom next-door to Studio 1 containing seven networked workstations providing the perfect environment in which to teach students how to program their own musical backing tracks as well as record and mix vocals. \more
I designed and built the entire classroom from the ground up to be as easy to use and flexible as possible. Each workstation has good sound hardware consisting of analogue mixer, two pairs of headphones, midi keyboard and each computer is equipped with an excellent sound card.
There is a large video projection screen that allows the demonstration of multi-media software such as Cubase or Photoshop, as well as a comprehensive audio distribution network that allows all of the recording spaces to be linked to any of the workstations if necessary. Users are required to login to the ultra-highspeed network that automatically backs up everyone's work as well as providing fast internet access and web-serving.
Networked scanners and printers (including a large-format poster printer) allow production of high quality print while professional video editting software, two video cameras together with a shotgun microphone enable video footage to be recorded on location, brought back to the studio and editted into short films.